GCPS Nutrition Services is excited to announce we are participating in CRUNCH HEARD 'ROUND THE COMMONWEALTH!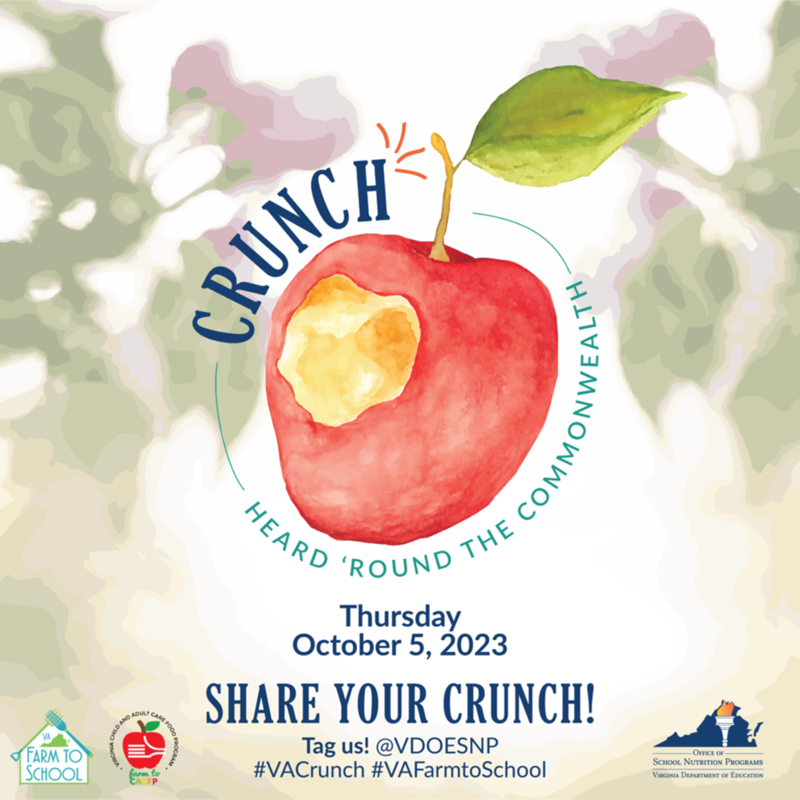 Make some noise for #VAFarmtoSchool Week by participating in the Crunch Heard 'Round the Commonwealth on October 5, 2023. Visit the Virginia Department of Education's Farm to School website for details #VACrunch @VDOESNP
Crunch into a local Virginia apple during the Crunch Heard 'Round the Commonwealth happening on October 5, 2023! #VACrunch #VAFarmtoschool @VDOESNP
What is the "Crunch"?
The Crunch Heard 'Round the Commonwealth is a special event to increase awareness of Virginia farm to school programs. To celebrate the event, participants across the Commonwealth take a bite out of a Virginia grown apple simultaneously, producing the celebratory "Crunch." Together, we will make some noise for farm to school!
Virginia's first "Crunch" event launched in 2017 and was a great success. A total of 186 schools plus the Office of the Governor, Virginia Cooperative Extension, statewide partners, and farmers markets across Virginia participated. The "Crunch" has grown exponentially over the years and, in 2022, reached over 189,000 participants at 863 different sites.
The goal for the Seventh Annual "Crunch" is the same as it is every year: to make this the loudest Crunch Heard 'Round the Commonwealth ever!
Fun Facts
Virginia is the sixth largest apple producing state in the United States.
Virginia apples are distributed to more than 20 different countries.
A majority of the Virginia apple crop grows in the Shenandoah Valley.
Approximately 70 percent of Virginia apples end up processed, meaning they become juice, applesauce, cider, apple butter, and pre-sliced apples for purchase.
Virginia apple harvest starts in July and runs through early November each year.
Apple orchards have been in Virginia since the 1600s. Surprisingly, it was already a booming business back then with some growers having up to 10,000 apple trees.
A founding father, Thomas Jefferson, is thought to be partially responsible for bringing the Fuji apple to Virginia.
Nutrition
An apple is "bulk-producing" so it satisfies your hunger while its natural sugars are easily digested and provide a quick source of energy. The fiber contained in apples can aid digestion and help lower cholesterol. Because of their beneficial aid to dental health, apples are often referred to as "Nature's toothbrush."
Apples contain the flavonoid quercetin, which helps to prevent the growth of prostate cancer cells, reduce the incidence of lung cancer, and contribute to improved lung function.
A medium-size apple is free of fat, sodium, and cholesterol. Apples are also an excellent source of fiber with approximately five grams per medium apple. All this and only 80 calories per serving.